As an Apprentice you will gain valuable work experience whilst being paid, a guaranteed job and a recognised qualification, which will hold you in great shape for the next step of your career journey.
CLAAS UK or your chosen dealership will lead you every step of the way through your Apprentice programme offering support in both the workplace and at college. We offer 2 types of Apprenticeship today, the Landbased Engineering Apprenticeship and the Parts, Sales and Marketing Apprenticeship. Both programmes are made up of college based block release training alongside practical experience in a CLAAS dealership.
---
John Deere Agricultural Engineering Apprenticeship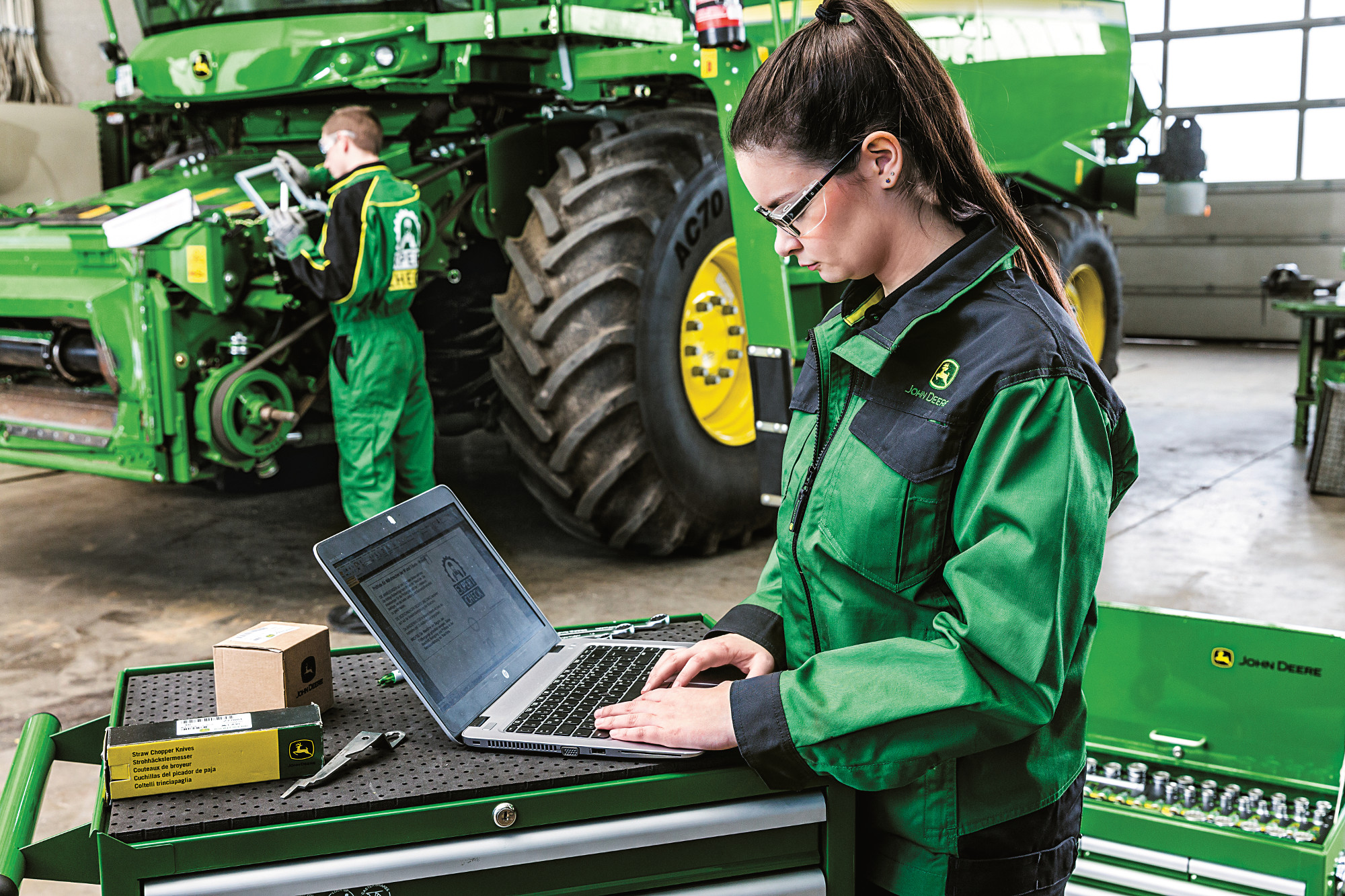 John Deere's award winning Ag, Turf, Parts and Customer Service Tech apprenticeship programmes are run in partnership with national training provider ProVQ at the purpose-built John Deere Apprentice Training Centre in Radcliffe-on-Trent, Nottinghamshire.
New student intakes are in September each year. Apprentices need to be resident in the UK, sponsored by a John Deere dealer and aged 16 or over. The standard three-year programme covers all the normal engineering principles and systems, and includes on-the-job training and assessment as well as eight weeks each year at the John Deere Apprentice Training Centre. This sets you on a career path that can ultimately lead to the highest possible Land based Training Accreditation (LTA) Master Technician accreditation.

Further details may be found here

---
CNH Industrial Agricultural Technician Apprenticeships- UK (New Holland Agriculture & Case IH)
CNH Industrial, a global leader in the manufacture and supply of capital goods equipment work with its Case IH and New Holland Agricultural franchised dealer network to offer an industry leading apprenticeship. This apprenticeship is a 3 year program operated in conjunction between a Dealer and Reaseheath College (England) or SRUC Oatridge campus (Scotland). Your apprenticeship is the start of a lifelong learning journey, which will offer a secure and enjoyable future in Land Based engineering while earning a completive salary. The program its self follows a very practical program with 3 x 4 week blocks in college each year and the rest of the time on the job in the real world. To apply at your local Case IH Dealer - Dealer Locator | Case IH. To apply at your local New Holland Dealer - Find a Dealer | New Holland (UK) NHAG
https://www.reaseheath.ac.uk/further-education/courses/agricultural-engineering/
https://www.sruc.ac.uk/courses?subject=21
https://agriculture.newholland.com/eu/en-uk
https://www.caseih.com/emea/en-gb/products/tractors
---
JCB UK Apprenticeships
JCB UK runs a number of different apprenticeship schemes. On the manufacturing side, they take on apprentices for their various manufacturing sites in Staffordshire. For Dealer staff, JCB runs an apprenticeship scheme in conjunction with Reaseheath College. The JCB UK Service Engineering apprenticeship programme is fully compliant with the LTA scheme.
---
HONDA UK Apprenticeships
HONDA UK runs a number of apprenticeship schemes including one for their outdoor power equipment (lawn and garden and ATV) dealer technical staff. The HONDA UK apprenticeship programme for lawn and garden and ATV dealer staff is fully compliant with the LTA scheme.
---
AGCO

AGCO is a global leader in the design, manufacture and distribution of agricultural equipment. Through well-known brands including Challenger®, Fendt®, GSI®, Massey Ferguson® and Valtra®, AGCO Corporation delivers agricultural solutions to farmers worldwide through a full line of tractors, combine harvesters, hay and forage equipment, seeding and tillage implements, grain storage and protein production systems, as well as replacement parts.